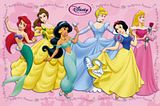 We were having a conversation about Disney yesterday. And I didn't realize the fact that most Disney movies don't have a mother! The female role is rather naïve or non-existent within Disney movies. What is that about??
Think about it:
The Little Mermaid only got scolded by King Triton (and Sebastian and Flounder)
Belle had that cute little absent-minded father in Beauty and the Beast
Cinderella only had a father and when he died, she was left with an evil stepmother
Nemo's mommy died in the beginning (though this was Pixar and way after Walt's time)
And let's not forget about Bambi… need I say more?
I did a little bit of investigating on the topic and here's what I found out. Walt's mom actually died when Walt was 37 from asphyxiation. There was a faulty furnace in the house that Walt actually bought for his parents. He never got over it and felt such guilt for the rest of his life.
But digging a little deeper, we can see that the classic animated Disney movies were all based on stories written by various famous authors (Hans Christian Andersen, the Brothers Grimm). They are folk tales and fairy tales that were adapted into animated screenplays.
In any case, I haven't said much but I just think it's rather interesting to note that little fact. I had never thought about it like that before!